Avon Cobra Chrome White Wall Tyres Available in CHELTENHAM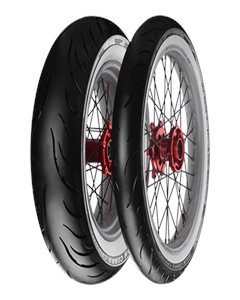 Cobra Chrome White Wall
The Avon Cobra Chrome offers premium performance and a stylish Cobra themed design.
UNIQUE DURABLE WHITE SIDEWALL
The white sidewall Avon Cobra Chrome is the ultimate statement of individuality.
EXCELLENT WET BRAKING AND STABILITY
Enhanced compounds and new construction deliver improved stopping distances in wet braking tests.
UNIQUE TYRE DESIGN WITH DETAILED AESTHETIC FEATURES
Bespoke snake skin appearance and embossed Cobra head logo.